While the glitz and glamour of the strikers often take center stage, the true conductors of the beautiful game are the defensive midfielders. This piece will highlight these often overlooked yet vital players and rank the top seven since the turn of the millennium.
We'll show you the midfield masters, including figures like Kante and Guardiola, with supporting data and thoughtful commentary. While you might not concur with all the choices, there's no denying the talent, tenacity, and impact of these football legends.
So, without further ado, let's begin our journey into the world of these midfield masters.
Selection criteria and methodology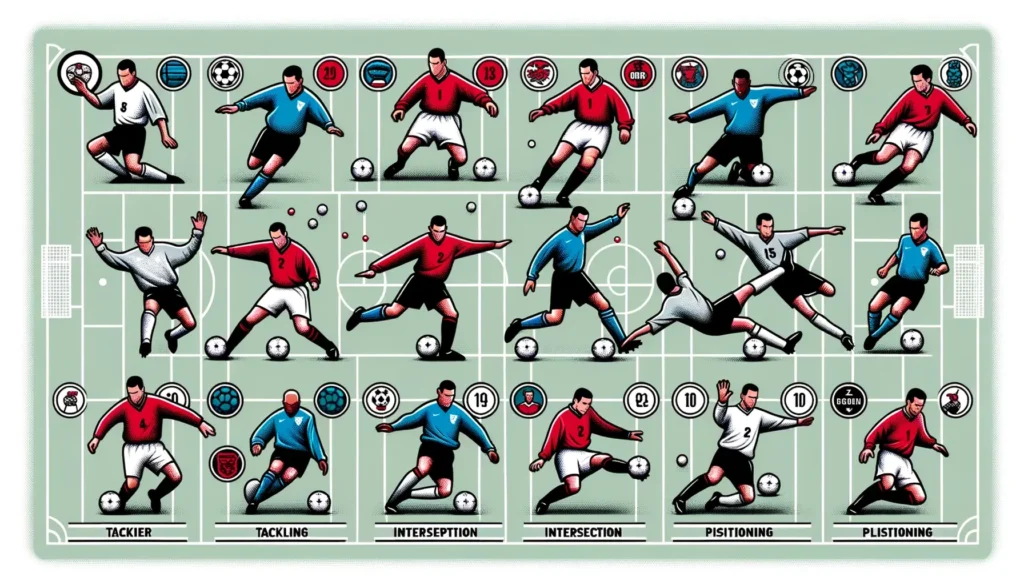 In defining our process of selection, we must highlight the specific factors we've employed to assess the outstanding defensive midfielders since the start of the 21st century.
Characterizing the role of a defensive midfielder isn't straightforward; it's as fluid as the game itself. We've taken into account players who've transformed the role, those who've outshone others during their prime performance, and those who've demonstrated consistent skill.
The influence of their efforts at both club and international levels is a significant part of the assessment. However, it's key to acknowledge that football is subjective and brings a wide array of perspectives.
Our examination, although thorough, may not reflect everyone's opinions. So, we welcome you to scrutinize our method as we enjoy the beauty and liberty of this magnificent sport.
7th and 6th: Kante and Fernandinho
Transitioning from our selection process, we're now setting our focus on the 7th and 6th finest defensive midfielders since the turn of the millennium, N'Golo Kante and Fernandinho.
Contrasting Kante and Fernandinho's approach to the game:
Kante is well-regarded for his boundless energy, quickly covering the field, and adeptly intercepting the ball. Meanwhile, Fernandinho employs a blend of strength and technical skills to dictate the flow of the game from a deep position.
Assessing their contributions to Leicester City and Manchester City, respectively:
Both players have had a significant role in the triumphs of their respective teams. Kante shone with his defensive abilities, playing a critical role in Leicester's dream-like Premier League victory. On the other hand, Fernandinho's adaptability has been a key component of Manchester City's success during Pep Guardiola's tenure.
Acknowledging their individual accolades:
Kante and Fernandinho's accomplishments, including the PFA Player of the Year for Kante and multiple Premier League titles for Fernandinho, serve as proof of their exceptional talent.
Reflecting on their career longevity and consistency:
Both athletes have demonstrated high standards of performance over the years, showcasing their resilience in one of the most challenging football leagues in the world.
5th Place: Claude Makelele's Impact
At the 5th position in our ranking is Claude Makelele, whose stellar performance has significantly shaped the role of defensive midfielders. Makelele's contribution to football is tremendous and widely acknowledged.
Although he wasn't the pioneer of the holding midfield position, his exceptional performance at Chelsea has earned him a distinguished place in the annals of football. Makelele was renowned for his defensive skills. His knack for disrupting opponents' play, distributing the ball effectively, and providing excellent defensive cover made him stand out, marking him as one of the finest in his position.
His impact was so significant that the defensive midfield position is commonly known as the 'Makelele role'. Makelele's legacy remains a source of inspiration for budding defensive midfielders in the present day.
Honorable Mentions and Contenders
While Makelele's impact on the role of defensive midfield is massive, others have also left their mark on this position and deserve a nod of appreciation. Some of the players who've made significant contributions yet didn't make the cut include:
Michael Carrick: His keen eye for the game and his range of passing played a pivotal role in Manchester United's triumphs.
Frank de Jong: This Dutch player's technical prowess and defensive diligence make him an integral part of Barcelona's team.
John Obi Mikel: Known for his unwavering performance for Chelsea and Nigeria, Mikel has earned respect in the field.
Fernando Redondo: Even though Redondo's peak was brief, his skill set stood second to none.
Although these players didn't receive the same level of acclaim, their contribution to the sport can't be overlooked. Their influence has been substantial, even without the same level of fame.
The unmatched Sergio Busquets
Sergio Busquets has been undeniably a shining star in the defensive midfielders' sky since the dawn of the 21st century. His outstanding play on the football field, which featured excellent positioning, precise passing, and strong defensive abilities, has cemented his significance in the sport.
The comparison of Busquets with other renowned defensive midfielders underscores his significance and impact on the game. Possessing a keen ability to anticipate the game's flow and dismantle opposing team attacks, along with his precise passing skills, Busquets stands out from the rest.
His influence isn't just confined to his home club, Barcelona, but also extends to the Spanish national team, contributing to their triumphs. The football arena has witnessed a handful of players who parallel Busquets in terms of consistency and command over the defensive midfield position.
Consequently, any discussion regarding the elite defensive midfielders would be incomplete without a special nod to the unparalleled Sergio Busquets. His contribution to the sport is a testament to his mastery, and therefore, he certainly warrants a notable place in the annals of football history.
Close calls and notable performances
While Busquets has no doubt dominated the defensive midfield role in recent years, several players have come within touching distance of his prowess. These individuals have had superb seasons and turned in exceptional matches that have put them on the brink of achieving Busquets' level of mastery.
Let's talk about a few of them:
Michael Essien: Known for his exceptional performances at Chelsea, Essien was a key figure in their defense.
Javier Mascherano: He put on incredible performances during his time at Barcelona that were almost as dominant as Busquets'.
Arturo Vidal's performances for Juventus and Bayern Munich were noteworthy, making him a strong contender.
Xabi Alonso: Alonso's time at Liverpool and Real Madrid was filled with awe-inspiring performances, but he just fell short of the cut.
When we objectively assess their contributions, it's evident that these players have each made a significant impact on the football world.
As the great Pele once said, 'Success is no accident. It's hard work, perseverance, learning, studying, sacrifice, and most of all, love of what you're doing or learning to do.' And it's clear that these players have lived by these words.
Busquets: Career Highlights and Legacy
Busquets has had an extraordinary career, setting a new benchmark for defensive midfielders with his brilliant performances. His unique ability to analyze the game and intervene at crucial moments has been a vital element in Barcelona's achievements. He's acted as a wall for the defense and a springboard for the offense.
The significance of Busquets' influence on Spain's national team is profound. His pivotal role in Spain's victories in Euro 2008 and 2012, as well as the 2010 World Cup, clearly indicates his importance. He's not just a player with a list of personal accolades, but someone who's redefined the role of defensive midfield.
While he may not be as glamorous as some of his teammates, the value Busquets brings to the game is beyond measure and will continue to be felt for a long time. As a player, he's always been about the team and the game rather than personal glory. That's what makes him a true legend.
To quote an anonymous football enthusiast, 'Busquets doesn't play for the limelight; he plays for the love of the game. That's his true legacy.'