Kaká's rise from a young talent in São Paulo to an internationally recognized soccer star is a narrative filled with skill and charm.
He has won the hearts of enthusiasts with his skillful play and authentic personality, contributing positively both on the soccer pitch and in his community.
This piece shares the lesser-known aspects of a sportsman who has not only claimed trophies and awards but has also made an impact with his charitable acts.
Let's take a closer look at Kaká's life, where his passion for soccer intersects with his compassion for others.
'Kaká's story is not just about soccer; it's about the heart behind the jersey.'
Rise to Stardom in ac Milan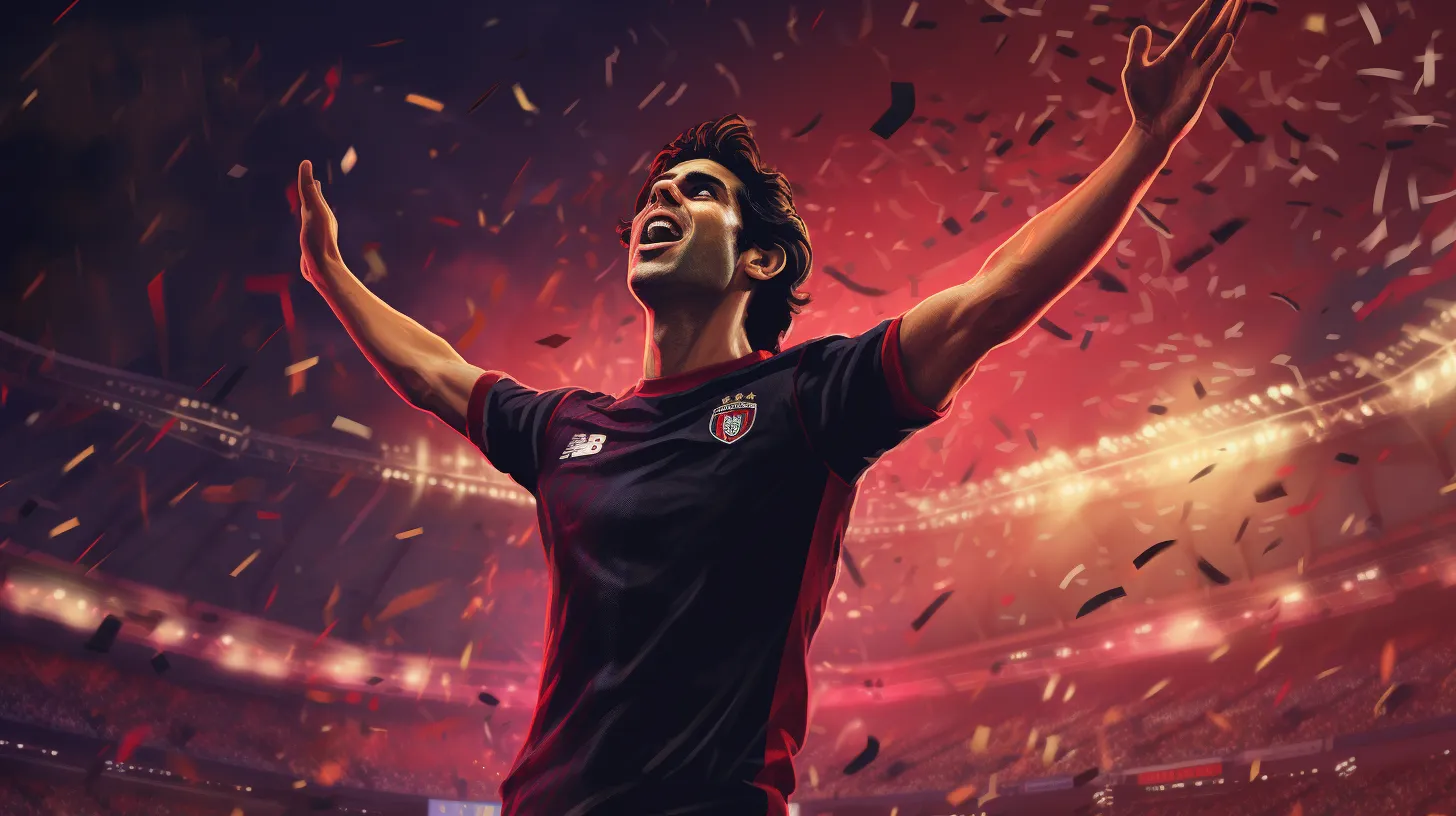 Ricardo Kaká burst onto the European football scene in 2003 when he signed with A.C. Milan, quickly establishing himself as a key player for the Italian giants.
He'd made his mark in Brazil with São Paulo FC, but it was Milan's €8.5 million investment that brought his talents to a global stage. Kaká didn't disappoint.
He dazzled fans with his pace, creative passing, and scoring prowess, earning the title of Serie A Footballer of the Year twice.
His most memorable season came in 2007, when he led Milan to Champions League glory, displaying a series of performances that later won him the prestigious Ballon d'Or.
He wasn't just a playmaker; he was the heart of a team that conquered Europe. Despite a heartbreaking loss in the 2005 Champions League final, Kaká's resilience shone through, propelling Milan to further success.
His legacy in Milan is undisputed. He's remembered as a player who combined grace with efficiency, someone whose footprint left a lasting impression on both the club and fans alike.
Kaká's rise to stardom in Milan remains a testament to his extraordinary talent and the sheer impact he'd have on the beautiful game during his time in Italy.
High-Profile Move to Real Madrid
In the midst of his prime, Kaká's career took a dramatic turn as he signed with Spanish giants Real Madrid in June 2009 for a reported fee of €65 million.
The move was part of Real Madrid's high-profile 'Galácticos' strategy, marking him as one of the most expensive players in the world at that time. Fans and pundits alike were abuzz with anticipation to see the Brazilian maestro weave his magic in La Liga.
He made his debut for Los Blancos with high expectations to replicate his success in Italy. However, Kaká's tenure at Madrid was a mixed bag.
While he showed flashes of his brilliant best, his time in Spain was marred by injuries. Despite these setbacks, he was a key figure in Madrid's 2011 Copa del Rey and 2011–12 La Liga triumphs.
Kaká's spell at the Santiago Bernabéu, though not matching the personal heights of his Milan days, still displayed his class and professionalism.
He eventually returned to Milan in 2013, leaving behind a legacy at Madrid that, while not legendary, was certainly marked by moments of brilliance that only Kaká could provide.
Kaká's International Triumphs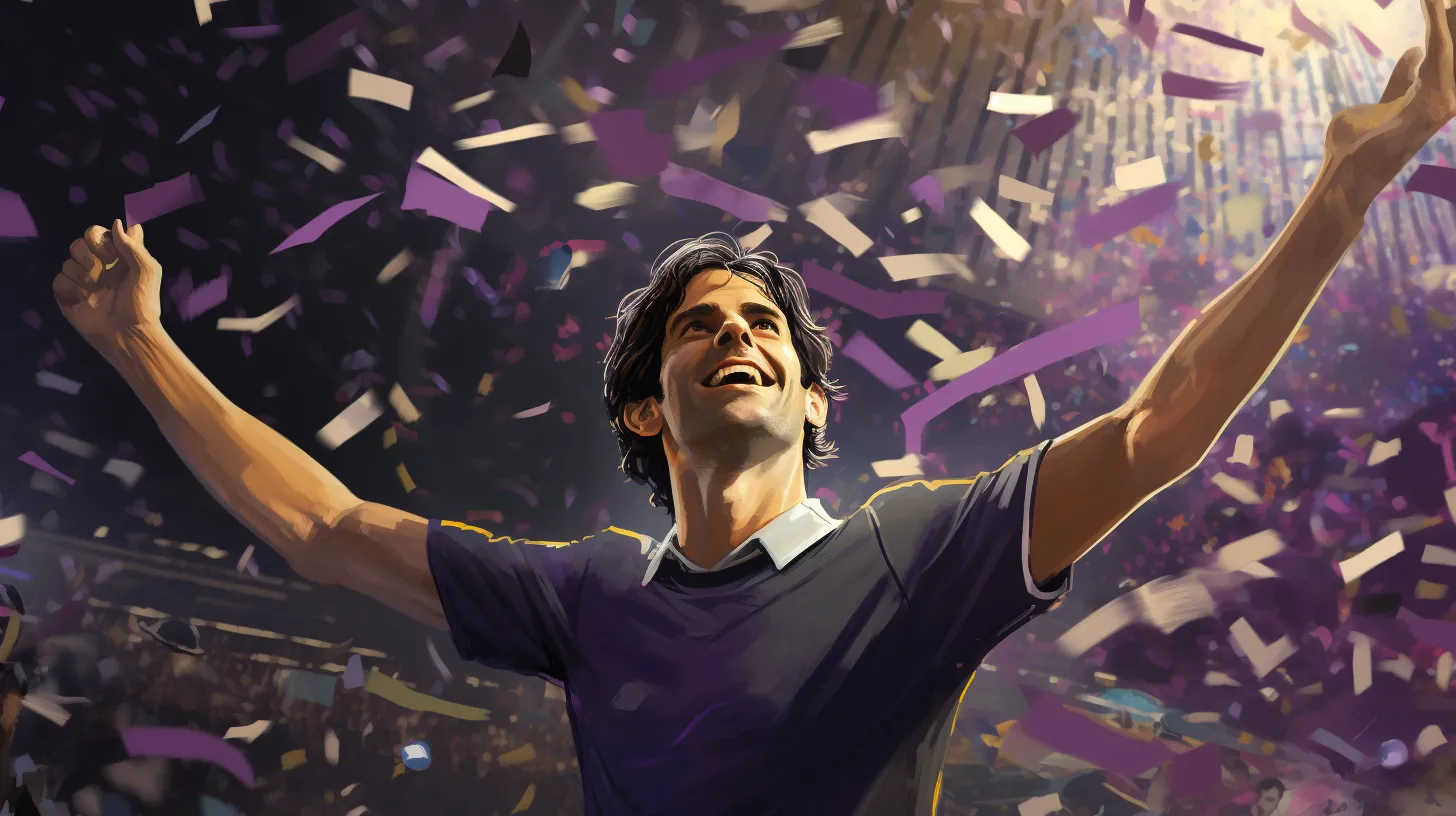 While club success had defined his early career, the Brazilian midfielder's international achievements with the national team were equally impressive, starting with his 2002 World Cup victory.
As a young talent, Kaká's inclusion in the squad that lifted the trophy in Japan and South Korea marked the beginning of a series of triumphs on the global stage.
He wasn't just a peripheral figure; Kaká's contributions were vital in securing Brazil's fifth World Cup title.
He went on to become a mainstay in the national team, participating in the 2006 and 2010 World Cups and emerging as the leading assist provider in the latter tournament.
His vision and precise passing proved crucial in many of Brazil's attacking plays.
Kaká's international glory wasn't limited to the World Cup. He was an integral part of the teams that conquered the FIFA Confederations Cup twice, in 2005 and 2009.
These victories solidified his status as one of Brazil's contemporary football icons.
His relentless creativity and elegance on the field left an indelible mark on the international football landscape. Kaká's legacy extends beyond his technical skills; he inspired a generation of footballers with his humble demeanor and dedication to the sport.
Kaka Unmatched Legacy and Honors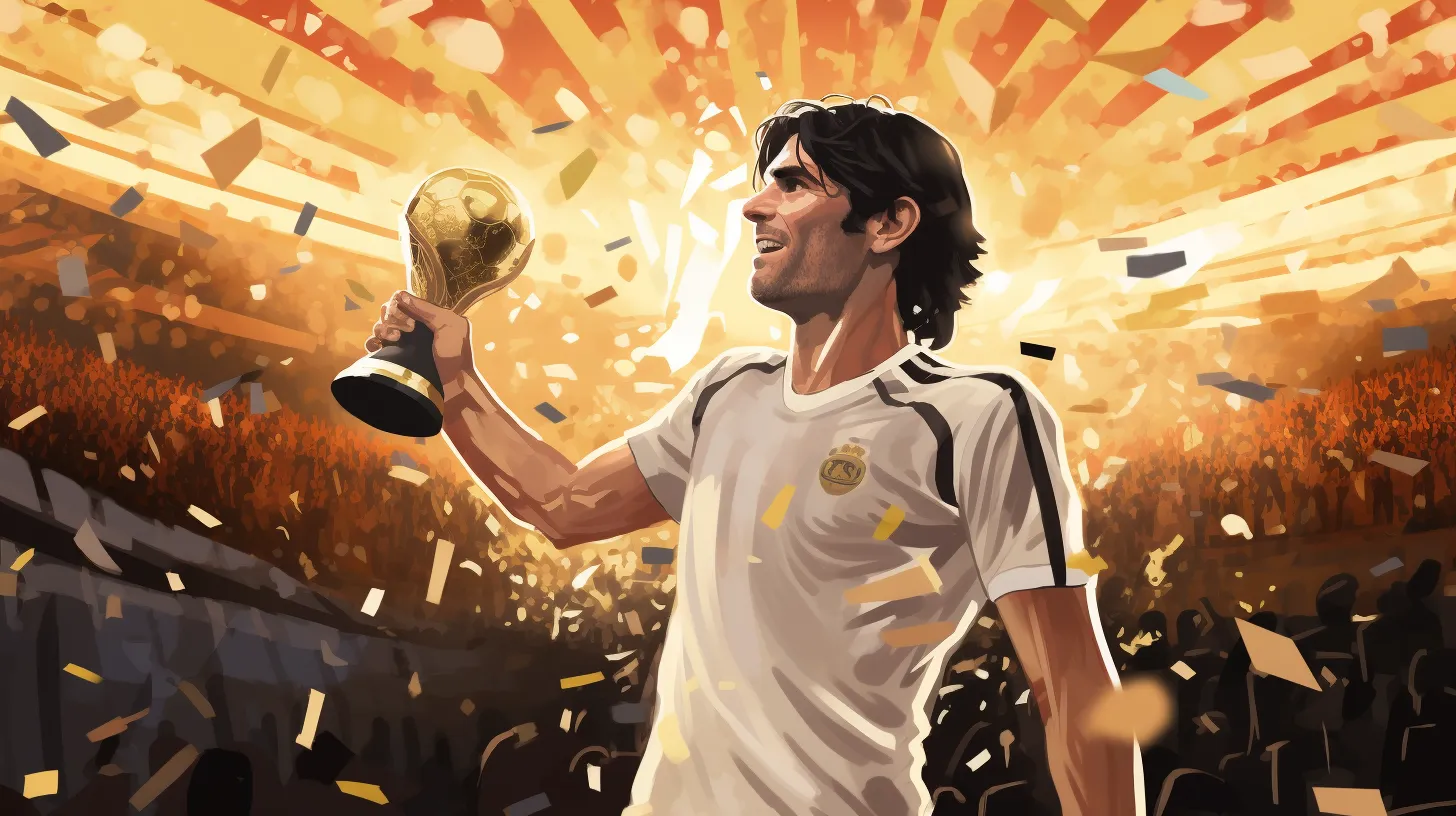 Despite facing intense competition throughout his career, Kaká carved out a legacy as one of football's most honored playmakers. His journey began at São Paulo FC, where his stellar performances earned him the title of best player in the 2002 Campeonato Brasileiro.
The move to A.C. Milan in 2003 marked the start of a golden era for the midfielder. He won a Serie A title and was named Serie A Football Player of the Year twice, achievements that underscored his dominance in Italian football.
His prowess peaked in 2007 when he led Milan to UEFA Champions League glory, a triumph that placed him among the sport's elite.
That same year, he won the prestigious Ballon d'Or and FIFA World Player of the Year, accolades that reflected his unmatched skill and influence on the pitch.
Kaká's excellence wasn't limited to club level. He shone brightly for Brazil, contributing to their 2002 FIFA World Cup victory and delivering standout performances in subsequent tournaments.
His legacy further endures through his induction into A.C. Milan's Hall of Fame and his status as a social media pioneer among athletes. Beyond the pitch, he's acclaimed for his humanitarian efforts, showing that his impact extends far beyond football.
Kaká Beyond the Pitch: Humanitarianism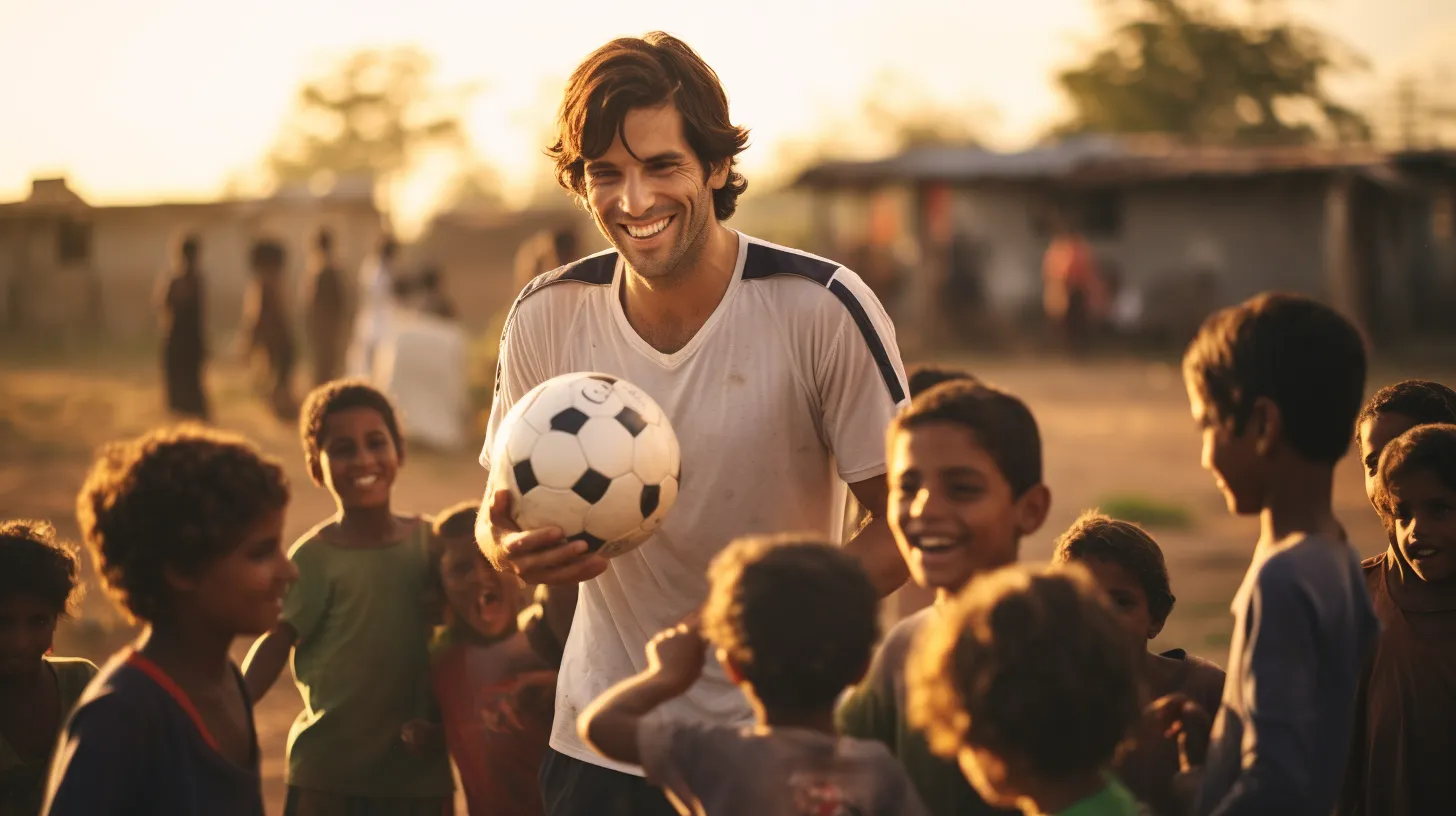 Kaká's role as a UN World Food Programme ambassador highlights his commitment to tackling global hunger. His involvement goes well beyond the glamour of football stadiums, placing him on the front lines of charity and advocacy.
With a heart as big as his football legacy, Kaká dedicates time and resources to fight against the plight of the undernourished, especially in impoverished regions.
His humanitarian efforts are multifaceted, including:
Participating in awareness campaigns and fundraising events to support the WFP's mission.
Using his social media platforms to spread messages on the importance of nutrition and sustainable food systems.
Engaging in field visits to areas affected by food insecurity, offering not just a helping hand but also a spotlight on the dire conditions many face.
Kaká's passion for humanitarian work isn't merely an off-field hobby; it's an integral part of his identity. He's leveraged his fame to shine a light on issues often overshadowed by daily news cycles, thus inspiring fans and peers alike to join in the fight against hunger.
His actions off the pitch have earned him as much respect as his footballing prowess, proving that his influence extends far beyond the beautiful game.
F.A.Q
Q: When and where did Kaká begin his professional soccer career?
A: Ricardo Izecson dos Santos Leite, known as Kaká, began his professional soccer career at the age of 18 with Sao Paulo in Brazil.
Q: How did Orlando City SC benefit from Kaká's presence?
A: Besides his performances on the field, Kaká's presence in Orlando City SC significantly increased the club's popularity in the MLS, helping to attract more fans and sponsors.
Kaká was the first major superstar to sign with Orlando City SC, and his three seasons with Orlando had a vital impact on the club.
Q: What notable achievements did Kaká earn throughout his career?
A: Throughout his decorated career, Kaká received numerous honors including the UEFA Club Footballer of the Year award and the FIFA World Player of the Year award.
He was also named MLS Club Footballer of the Year during his tenure with Orlando City SC. In 2007, Kaká was named one of the most influential people in Time magazine.
Q: Who is Kaká's brother, Rodrigo?
A: Rodrigo Izecson dos Santos Leite, known as Digão, is also a professional soccer player and is the younger brother of Kaká. Just like Kaká, he also started his professional career in Sao Paulo.
Q: Why did Kaká return to AC Milan?
A: After leaving Real Madrid in 2013, kaká returned to AC Milan, his previous club, where he made significant career progress. He went back, looking for more playing time and a chance to revive his club career.
Q: When and why did Kaká announce his retirement?
A: Kaká announced his retirement from professional football in December 2017. The decision was primarily based on physical issues, as he suffered a career-threatening spinal fracture in 2010. Despite recovering, Kaká often struggled with injuries throughout the rest of his career.
Q: How did Kaká become the highest-paid Major League Soccer (MLS) player?
A: In 2014, Kaká became the highest-paid player in MLS history when he signed for Orlando City SC. Despite interest from other top clubs, his desire to join a new project and promote football in the United States led him to accept the deal from Orlando, which at that time was the highest salary ever offered to an MLS player.
Q: Who is Kaká married to?
A: Kaká married his childhood sweetheart Caroline Celico in 2005 at the Rebirth in Christ church. The couple has two children but announced in 2015 that they were divorcing.
Q: What is Kaká's relationship with the Brazilian national team?
A: Kaká was a major figure for the Brazilian national team for many years. He was a key player in Brazil's 2002 World Cup-winning team.
Despite being dropped by the Brazil coach for the 2010 World Cup, he remained a valuable part of the team until his retirement.
Q: What reports made headlines when Kaká was in the MLS?
A: Reports that Kaká was the highest-paid player in MLS history made headlines in various media outlets, including the Bleacher Report.
His impressive performances and contributions to Orlando City SC, particularly in his first season, were also covered widely. His retirement announcement also attracted significant attention.